Changes in payroll and employee benefits like maternity leave, etc are happening ALL the time. You, as a business owner, have to devote time to keep up on the changes in addition to processing payroll, paying the payroll taxes timely, filing all of the payroll tax reports timely
Wouldn't your time be better spent on growing your business? A reliable payroll company will help you achieve this goal.
Before you leave the work to payroll consultant, how do you know that your payroll outsource adventure will end up on positive note? What if payroll consultant makes a mistake?
You don't know if the service is doing things correctly but a huge red flag would be when you start receiving notices from any of the government agencies, like CPF board and Ministry of Manpower
Here are questions you should ask a payroll service provider:
How long have you been in business?
How do I know you paying all payroll taxes?
How much of the responsibility of payroll processing do you do?
How secure is the information?
If there are corrections on the payroll, how long will it take to make the correction?
Should I use an online service or a "real live person"?
Online services provide the software for the employer to process payroll but the employer must still be up to date with all of the changes. They have to take time to learn the process of the online service and, if there's a problem, payroll requires immediate corrections in order to keep the employee satisfied.
Calling a toll free number would not be attractive to most business owners. A "real live person" (bookkeeper, accountant, or CPA) that you can know by name and feel comfortable with is a much better option. You should have confidence in your payroll service provider to process and take the entire process of payroll off of your desk. Do what you do best and make payroll outsource a way of
E-Leave and E-Claim, an online payroll management system
E-Leave
Application
Employees can apply for annual leave via email. The leave application email will be sent to their immediate manager (or up to 3 levels above) for approval. Here is an example :
Approval
Upon receiving an annual leave application via email, managers can check the company leave calendar online before approving leave. The approval is easily done with a click of a button within the email.
Leave calendar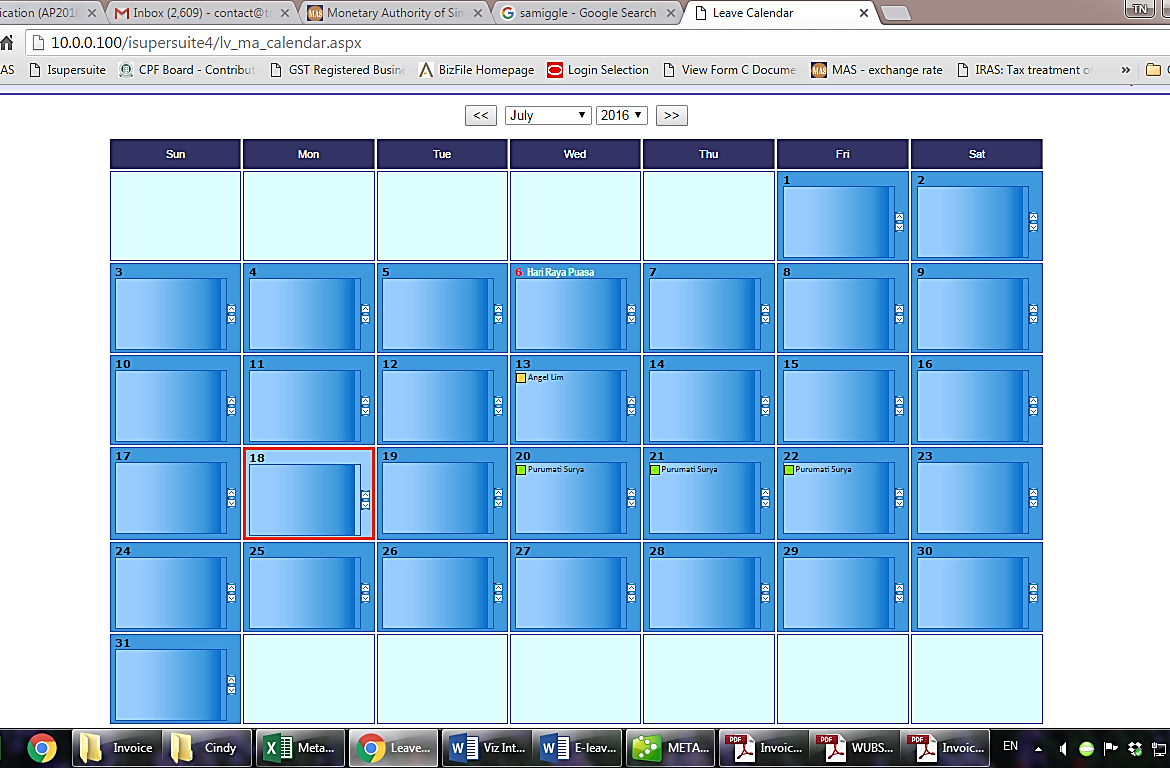 Approval and Reject Button
All records are automatically updated in real time with email notifications. This helps managers to easily summarise each employee's leave entitlement and balance amount when they ask for clarification.
E-Claim
Employees can submit claims online, without extra paperwork.
Approving officers can process the application online, anytime, anywhere. TN Online Payroll will automatically export those approved records to process in concordance with payroll.
All parties (ie. the approving officers and employees) can see complete records and approval history with total transparency and ease.
Fill in the enquiry form on the right to get a free quote from us today!