First month fee refundable if you are not satisfied with our results
Tn Online Payroll Pte Ltd caters to companies of all sizes in Singapore since 2004. We ensure professional administration, absolute confidentiality, and consistent and timely delivery in all of our payroll services. We practice the best payroll service. Let us help you take care of your people, so you can focus on consistently achieve productivity and profitability targets for your business.
Singapore, Malaysia and Indonesia payroll service
We provide regional payroll service for above countries including full filing of requirements of the relevant government department.
Why Outsource payroll?
In today's fast-paced business environment where organizations are striving towards productivity and cost-efficiency, organizations are becoming increasingly reliant on a payroll company to enhance their HR & Payroll processes. This is one of the reasons why business going for payroll outsourcing services in Singapore.
Why engage in payroll services in Singapore?  Payroll service providers offer an attractive and valuable alternative to in-house processing. With the correct payroll service company, they provide a less expensive, simpler means of paying your employees, filing your CPF and other statutory deductions, and performing a host of other duties.
If you are the owner of a very small company and you are trying to do payroll on your own, the cost of your time is even greater. By selecting the right payroll service company, you can depend on your payroll service providers to process and take the entire process of payroll off of your desk. Do what you do best and make payroll outsource a way of efficient business operation! Many businesses have reaped the benefits by going for payroll outsourcing in Singapore.
Payroll preparation is time-consuming, messy, and confusing especially for a non-accounting practitioner. We are one of the top payroll outsourcing companies in Singapore. Join the club of MNCs and let us handle your payroll for you, from $6 per employee per month.
The fee quoted is net price, no other hidden fee like year-end processing fee, no printing or another fee
Benefits of payroll outsourcing:
● streamline your process and simplify your administration
● save costs on hiring a full-time payroll master
● No need to purchase your own payroll software (which can be very expensive!)
● No need to keep up with the latest rules and regulations – we'll take care of that.
● No need to waste man-hours on retraining new employees on payroll administration
● Log in and check on your payroll from anywhere in the world
Don't run the risks of confidentiality breaches, late payroll accounting, or incorrect payroll crediting. Let the experts handle it for you, so you can concentrate on growing your business.
Our Suite of payroll outsourcing services include:
Payroll Computation, including pay items' calculation based on statutory requirements and company policies
New hire processing
Resignation/Termination processing
Preparation & filing of monthly CPF contributions
Payslip Preparation
Submission of IR8A and IR21 income tax forms
Electronic submission for NS Men Make-Up Pay, Maternity and Child Care Claims
Filing of year-end income
Standard and Customized Reports
Any and all information processed by us will be kept in a separate server with an auto-backup facility. This means that you will never have to worry about data breaches from us and that you will always be able to recover your data easily.
PLUS: Partner with us to get huge savings on essential payroll setup requirements:
1. Licensing for payroll software and costs for upgrade and maintenance.
2. Hardware for dedicated payroll computer, printer, and payslip.
Take advantage of our affordable services now. Get a free quote from us by filling in our form on the right, or just call Tony at 98267448 / 64388741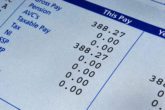 Package ( A) for Full Payroll Service: employee salary are mostly fixed
No. Of Employees 1-30: S$12 per head per month
31-100: S$9 per head per month
Above 100 employees: fee can be discussed
Package (B ) for Full Payroll Service: there is Overtime, commission &, etc calculation involved
No. Of Employees 1- 30: S$20 per head per month
31- 100: S$12 per head per month
Above 100 employees: fee can be discussed